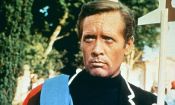 "I am not a number! I'm a free man!"
He's battled Vikings, been chased by giant white balloons, faced the wrath of Mel Gibson, had a run-in with Columbo, and even had telepaths try to explode his brains, but it was never easy to get rid of Patrick McGoohan. Those who knew him have suggested that he was simply too cool. Sadly, he passed away last Tuesday, from illness, at the age of eighty. The world is a notably less cool place without him.
To legions of fans, McGoohan was best known for having no name - for his stylish portrayal of the man known only as Number Six in cult TV series The Prisoner. This striking piece of Sixties surrealist brilliance spawned a legacy still visible in the film and TV industry today, and Danger Man, McGoohan's other great television role, also remains enormously popular. But the actor was also a formidable presence on the big screen, where his success as a series of villains brought him international acclaim. He is particularly well remembered as the brutal King Edward Longshanks in Braveheart.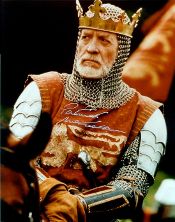 As well as acting, McGoohan tried his hand at writing and directing, with two Columbo films to his credit as well as several episodes of The Prisoner and Danger Man. When the ravages of time eventually ended his acting career, he went on to do voice acting (starring as Billy Bones in 2002's Treasure Planet) before shifting his focus entirely to the conceptual side of things, and he had several projects in the works at the time of his death.
It was a big career for a man who began it essentially through a series of accidents. McGoohan was a stage manager at Sheffield Repertory Theatre when an actor's sudden illness led to him taking over the role and discovering a new vocation. Later, Orson Welles saw him work and was, he said, so intimidated by the quality of his performance that he became determined to make him a star. Though it took a long time for meaty roles to emerge in Hollywood, McGoohan was the kind of actor who could stick it out, always making the most of what he had, and his small roles in films like Zarak and High Tide At Noon are well worth looking out for.
"I wanted to have controversy, argument, fights, discussions, people in anger waving fists in my face saying, "How dare you? Why don't you do more 'Secret Agents' that we can understand?" said McGoohan of his work on The Prisoner. "I was delighted with that reaction." He was a man who always tried to use art to make a difference, to make people think, and in that regard he remains Number One.
Share this with others on...